TampaSpins TROPICAL WEATHER ANALYSIS
TD means "Tropical Depression"
Green is an AOI to watch long term!
Yellow is an AOI with less than 30% chance of becoming a TD in 48hrs!
Orange is an AOI with a 30-50% chance of becoming a TD in 48hrs!
Red is an AOI that is developing with more than a 50% chance of becoming a TD in 48hrs!
MJO Forecast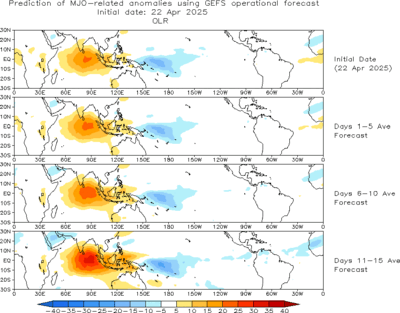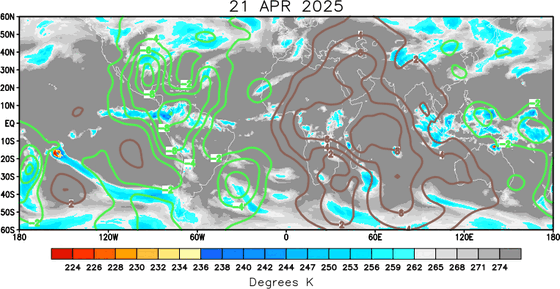 Sea Surface Temperatures or SST's 
Shear Map
Current Shear
Shear Map Right Click open a new window to loop.....
Steering Layer 700-850mb or
1000mb pressure 45kt storms
Steering Layer 500-850mb or
990-999mb pressure 45-60kt storms
Steering Layer 400-850mb or
970-989mb/60-90kts storms
Steering Layer 300-850mb or
950-969mb pressure 90-112kt storms
Steering Layer 250-850mb or
940-949mb pressure 112-122 kt storms
Steering Layer 200-700mb or
940mb pressure 122 kt and larger storms
850mb Vorticity
700mb Vorticity
 500mb Vorticity
200mb Vorticity
Upper Divergence
Lower Convergence
SAHARAN AIR LAYER
Right Click (open a new window)
Data provided by National Data Buoy Center
National Weather Service 3 day Forecast....Click to Zoom..
GFS Model
GFSx MODEL
NAM MODEL
NAM MODEL 
GFS Long Range Model Forecast Animation
Right click to open different views and loops....
From the NHC:  Right click to open a new window!
Atlantic - Caribbean Sea - Gulf of Mexico
Tropical Weather Outlook        (en Español*)
Gulf of Mexico analysis:
Tropical development is possible in this area in the next 24hrs. 
An AOI #1 to watch is located in the GOM in the BOC near 21N 93W!  A surface low has developed in the BOC.  Complete analysis below!
Caribbean and Bahamas Anylysis:
Tropical development could occur in this area in the next 24hrs! 
I do have an AOI #2 in the far South Western Caribbean near 11N 82W.  Complete analysis below!
North West Atlantic Anaylsis:
Tropical development is not expected in this area in the next 24hrs. 
Invest 96L is out there somewhere.  Development has come and gone......POOF!  It has always been a Cold Core system to the disbelief of some.  It was more likely an ExtraTropical system than SubTropcial.  
Central Atlantic Anylysis:
Tropical Development is not expected in this area in the next 24hrs. 
I do have AOI #3 located at 9N 47W with my analysis below.
Eastern Atlantic:
Tropical development is not expected in this area in the next 24hrs. 
Cape Verde season is about done.  This area is not likely to be a threat any longer!  Notice how the ITCZ is getting lower in lattitude.
Right Click on the Below Satellite Links and open a new window!
Atlantic - Wide View
            West Atlantic     Central Atlantic       East Atlantic
           Gulf of Mexico       Caribbean             East Coast
       Northwest Atlantic   North Atlantic    Northeast Atlantic
2009 Named Storms:
Ana, Bill, Claudette, Danny, Erika, Fred, Grace, Henri, Ida, Joaquin, Kate, Larry, Mindy, Nicholas, Odette, Peter, Rose, Sam, Teresa, Victor, Wanda
IN SIMPLE TERMS TampaSpins ANALYSIS:
Areas of Interest (AOI)
TD means "Tropical Depression"
Green is an AOI to watch long term!
Yellow is an AOI with less than 30% chance of becoming a TD in 48hrs!
Orange is an AOI with a 30-50% chance of becoming a TD in 48hrs!
Red is an AOI that is developing with more than a 50% chance of becoming a TD in 48hrs!
We still have an nice uplift of MJO for the next several days as this does increase moisture for Tropical development.  I have 3 AOI with really only 2 to watch.
AOI #1 located in the BOC we need to watch this very close to see if shear drops enough to allow this to develop.  A surface low is nearly already closed and development could occur in a few days as it slowly drifts North in low steering.  This is embedded within a trough extending into the Atlantic.  We need to watch this very close as development is not likely until shear was to drop and Shear is not forecast to drop anytime soon in that area.
AOI #2 located in the SW Caribbean has a nice Low spin with a Surface low forming.  This has a good chance of developing into a Tropical Depression withing 48hrs.  Shear is under 20kts and forecast to improve in time to the north where shear is very high.  Vorticity at 850mb is not great as it appears the higher Vorticity is in the Pacific side.  We might see a fight in the Pacific and Caribbean with neither winning out again.  Steering is very light and a drift to the WNW is likely over the next few days or a more West move is possible in the light steering and move inland.  Its really hard to say in the light steering as seen in the graphics above.  The chances of this becoming a Tropical Depression over the next 24 hours is possible.  This needs to be monitored very close as the long terms progess for develpment is at most 50% over the next few days.  
AOI #3 located in the Central Atlantic is a simply an area to monitor as it approaches the Islands.  There is an Area of Low pressure as eveident with the 850mb vorticity graphic.  Shear is very high in the area but, conditions should improve as it move WNW toward the Islands.  Development is not likely during the next 24hrs but, should be watched over the long term with improving condtions ahead.
Here are the defintions of a SubTropical Storm and of an ExtraTropical Storm:
Extratropical cyclone
Extratropical cyclones, sometimes called mid-latitude cyclones or wave cyclones, are a group of cyclones defined as synoptic scale low pressure weather systems that occur in the middle latitudes of the Earth (outside the tropics) having neither tropical nor polar characteristics, and are connected with fronts and horizontal gradients in temperature and dew point otherwise known as "baroclinic zones".[1] Extratropical cyclones are the everyday phenomena which, along with anticyclones, drive the weather over much of the Earth, producing anything from cloudiness and mild showers to heavy gales and thunderstorms.
Subtropical cyclone
A subtropical cyclone is a weather system that has some characteristics of a tropical and an extratropical cyclone. As early as the 1950s, meteorologists were unclear whether they should be characterized as tropical or extratropical cyclones. They were officially recognized by the National Hurricane Center in 1972. Subtropical cyclones began to receive names off the official tropical cyclone lists in the Atlantic Basin and the southwest Indian ocean.
There are two definitions currently used for subtropical cyclones. Across the north Atlantic and southwest Indian ocean, they require central convection fairly near the center and a warming core in the mid-levels of the troposphere. Across the eastern half of the northern Pacific, they require a mid-tropospheric cyclone to cut off from the main belt of the westerlies and only a weak surface circulation. Subtropical cyclones have broad wind patterns with maximum sustained winds located farther from the center than typical tropical cyclones, and have no weather fronts linked into their center.
Since they form from initially extratropical cyclones which have colder temperatures aloft than normally found in the tropics, the sea surface temperatures required for their formation are lower than the tropical cyclone threshold by 3°C (5°F), lying around 23 °C (73 °F). This also means that subtropical cyclones are more likely to form outside the traditional bounds of the hurricane season.
Nothing Active --  No current active systems 
FOR THE LASTEST FROM THE NHC RIGHT CLICK THE LINKS BELOW AND OPEN A NEW WINDOW:
Public Advisory    Aviso Publico    Forecast/Advisory
Forecast Discussion    Wind Speed Probabilities
Location: 0°N 0°W
Models
BAMD BAMM BAMS
No areas currently active Tropical Prediction Analysis for analysis!
Below are some links you might like for helping your own analysis:
Here are the short range Computer models (right click to open a new window)  to observe Items of Interest to develop.  It is that time of year when all should have the Hurricane Kits and plans into place.
Use the GFS LONG RANGE MODEL (right click to open a new window) to view possible development in a 14 day forecast cycle run.   
Here is a link to to my Tab with WEATHER LINKS!  This will give you everything you need in one spot!
Click the Tab at the top TROPICAL WX GRAPHICS a full Section of Tropical Graphics!
Look at this This is my Favorite LOOP!  It is my favorite for viewing the Tropics.  
This link (right click and open a new window) Tropical Prediction Analysis gives you my analysis for storms that have potential for development.  There is also a Tab at the top for the Link!  Remember to right Click to open a new window!  It's often very hard to take emotions out of developing or non-developing systems. So, i designed my own model to predict the potential development of systems with some subjective inputs and some non-subjective inputs to calculate the average conditions above or below conditions for development.
Remember the National Hurricane Center are the Professionals and release complete updates at 1 and 7 AM & PM on the hour!  Also, the NHC identifies the Tropical Season from JUNE 1st THRU NOVEMBER 30th!
PLEASE BECOME A MEMBER AND COMPLETE THE INSTANT MESSENGER.  ITS A QUICK WAY TO SEE WHO IS ONLINE FOR INTERACTION WITH OTHERS!
I really appreciate the great comments you all leave. I try to always reply back if you leave a question or a REQUEST. And please leave comments on the Blog good or bad as all are welcome.
Thank you all for visting my Blog,
Tim...